Thanks to everyone's overwhelming support, Grand Cross has reached 20 million download worldwide. For this Dev Note, we will let you know more about what's planned for the celebration event.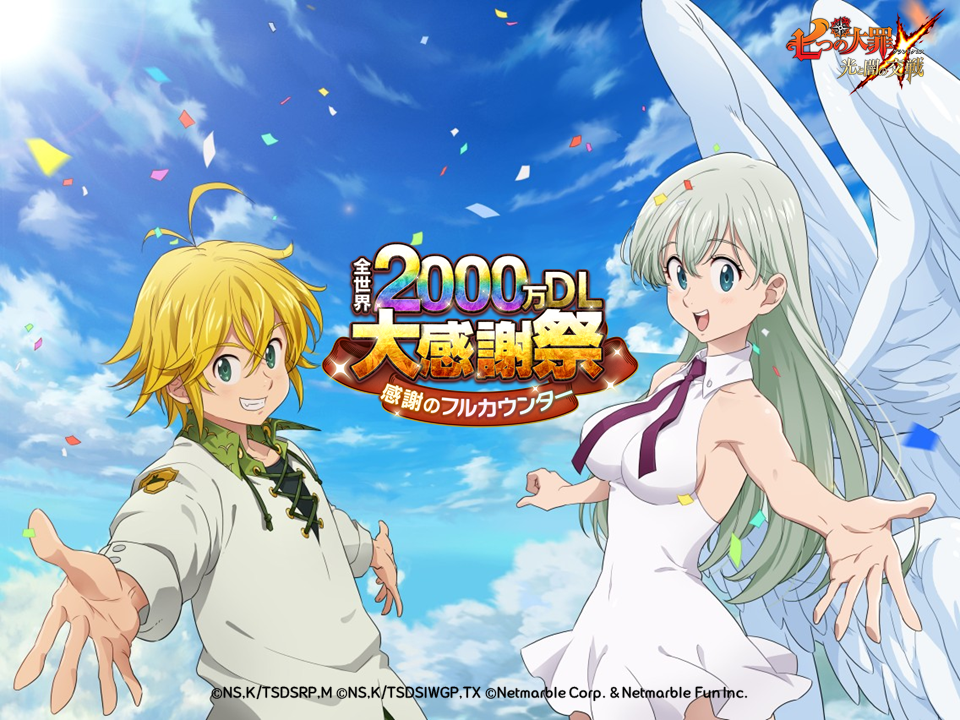 The Thanksgiving Fes will allow you to get various character growth items via events such as [Hawk Pass], [Thanksgiving Fes Roulette Event], [Hawk's Treasure Hunt] etc.
On top of that, we will also have other fun events such as [Boss Parade Event], [Final Boss Battle] New Season, [Tower of Disaster] etc. We will split the celebration into 2 halves, please look forward to it.
We will also have a new character who leaves a strong impression to the players in commemoration of the occasion, feel free to predict what character will be added.
We have taken feedback from players who participated in the beta version of [Knighthod Battle] earlier on.
For now, only the top 32 Knighthoods (based on the score for Knighthood Boss Battle) will take part in the Knighthood Battle.
Although only players who are in the high ranked Knighthoods are able to participate, but we do plan to expand the eligibility to more Knighthoods.
The [Knighthood Battle] determines which Knighthood is the strongest. We hope that through the content, Knighthood members can communicate and share their passion for the game.
We will continue to work hard so that more players can enjoy [Knighthood Battle].
We have heard a lot of opinions regarding the Super Awakening system, therefore we are addressing some of the improvement plans the Dev team has thought of.
First of all, we actually have received a lot of opinions regarding the system right after the introduction of it, we would like to sincerely apologize for not addressing these concerns immedidately.
Some of the feedback from players that we received are that, there are a lack of material for Super Awakening, as well as the limitation imposed by the levels of Ultimate Moves.
As a solution to this problem, the Dev team tried to provide players with more GSSR tickets and giving Super Awakening coins whenever possible.
However, after the implementation of the system, a lot of players have been very conservative in spending their character growth materials, so we determined that this problem was not fully resolved.
As a result, new characters that were supposed to provide enjoyment have became stress and burden to the players. This should not be the case. Therefore, we have decided to improve the Super Awakening system as follows.
First of all, we are thinking of removing the Ultimate Move level restriction.
We are planning to change the system from the old way of "you are only able to perform Super Awakening depending on the number of dupes you have" to "you are able to Super Awaken units by consuming the required amount of coins depending to the ultimate move level".
For example, 3 Super Awakening coins are required to perform the 2nd stage Super Awaken for a SSR character with level 2 Ultimate Move. However, with a character that only has level 1 Ultimate Move, you will need 6 Super Awakening coins to do the same. [GCDB: tldr if you have less ult level you will need more coins to do higher level SA]
The aforementioned changes will be scheduled for mid August update.
Since the number of coins required for Super Awakening is going to increase, we plan to include Super Awakening coins via events, please keep an eye on that.
The Dev team would like to thank the players who are enjoying Grand Cross.
Moving forward, we will continue to provide quality service, and will work hard to listen to players to make improvements and changes.
Thank you once again for your continuous support for the game.